Growing at Crakmedia
Training and professional development
At Crakmedia, we firmly believe that training must be a priority to enable all our talent to integrate successfully into our company and grow with us for many years. Our offer is one of the most comprehensive on the market, thanks to powerful learning tools and a team fully dedicated to researching, creating and maintaining our top-quality training catalogue. Our practices in this area were recognized at the prestigious Gala des Mercuriades in 2023, where we were finalists in the Training and Workforce Development category.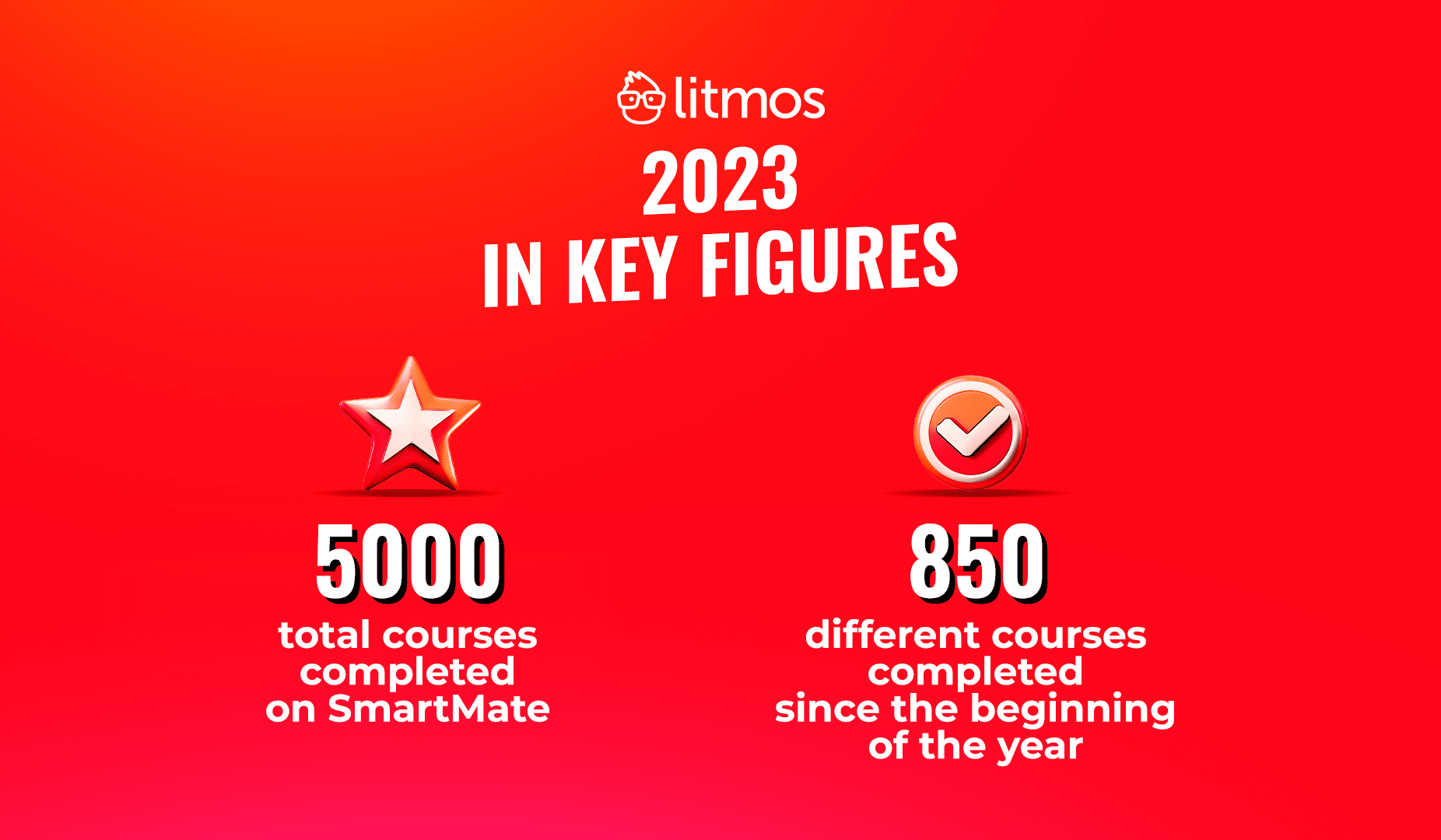 A powerful
learning management system
In 2022, Crakmedia invested in Litmos LMS, one of the most comprehensive award-winning learning solutions on the market. Thanks to this platform, we are able to offer personalized, dynamic and interactive training on all the subjects at the heart of Crak's mission: marketing, media buying, advertising placement, our products, our technological tools and also everything to do with human resources and compliance. 
In addition to our own training courses, Litmos provides access to nearly 3,000 training courses that enable our talent to acquire a wealth of essential practical knowledge, both professionally and personally. Digital and financial literacy, compliance, data security, leadership, personal development, diversity and inclusion, conflict management, mindfulness or digital transformation are just a few examples of the topics covered in these training courses.
A custom integration plan
As soon as a new recruit arrives, they begin their adventure at Crakmedia with a roadmap entirely personalized to their needs and adapted to their new role. It contains a host of training courses, meetings with specialists from each department (affectionately known as Crakcoachs) and all the steps to follow to integrate fully and quickly into their new role with us. 
What's more, each Crakcoach is assigned a mentor: an experienced person whose role is to guide the new talent during the first few weeks to ensure a 100% successful integration! Activities are organized on a regular basis to bring colleagues together and get to know each other: the perfect opportunity for new people to get to know their team!
Pluralsight, to be in sync with IT innovation
IT drives everything we do at Crakmedia, and our team of over 50 development, data and analytics pros needs to stay on top of technological changes and new trends. We therefore offer access to various certifications and courses on the Pluralsight platform. React, AWS, NodeJS, Agile development, project management, Linux servers, cybersecurity, SQL and many other topics are covered through well-structured online courses.
The Pluralsight platform also offers hundreds of courses for mastering advanced techniques in the most popular creative software (Photoshop, After Effects, Illustrator, Unreal, Maya, Houdini) or acquiring more theoretical knowledge of UX design, motion design and animation.
A full-time training team
Crakmedia takes training so seriously that we have a team dedicated full-time to the training and professional development of our staff! Their mission: to ensure that everyone at Crakmedia feels fulfilled in their work, from the moment they are hired and throughout their career with us. We understand very well the positive effect on motivation, well-being and creativity of offering our people the opportunity to evolve professionally, acquire new skills or strengthen old ones. 
The field of performance marketing is changing fast and is full of challenges. Crakmedia's training team helps our people, from the most seasoned to the most novice, to stay at the top of their game and contribute to Crak's mission! We support their professional development and guide them toward achieving their career goals.